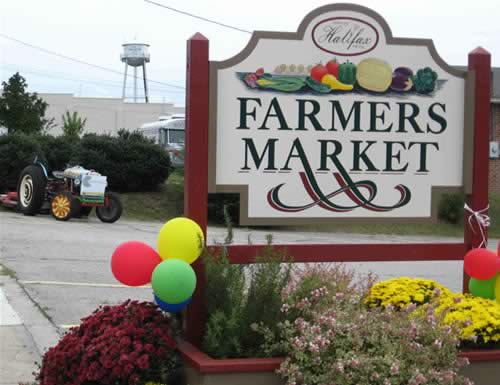 Town of Halifax Farmers Market will celebrate its sixth annual grand opening celebration on Saturday from 8 a.m. to noon. The event will feature fresh local produce, fresh pasture-raised ground pork and goat along with fresh pasture-raised broilers and country sausage, farm fresh eggs, baked goods, fresh cut flowers, jams and jellies, sugar body scrubs, goat's milk lotions and soaps, handmade jewelry, MeMe's Herbal products, kids' books and puppets, which will be buy one get one half off, fused glass crafts, soy candles, pure vanilla extract and much more, according to Halifax Assistant Manager Denise Barksdale.
The day's activities will include Halifax Regional Hospital hosting a cooking demo starting between 8-8:30 a.m., which will feature a strawberry patch salad with goat cheese, onions strawberries and candied walnuts with a strawberry vinaigrette over romaine lettuce.
Hudson Heritage Farms will fire up the grill at 10 a.m. with some fresh ground goat and pork.  Also firing up the smoker at 10 a.m. will be Great Oak Farms with a "Makin Bacon" demo.
Halifax County Humane Society will be hosting an adopt-a-thon that will run from 8-noon, and Southside Master Gardeners will be on site to sharpen those garden tools free of charge.
Live music will begin at 10:30 a.m. featuring singer/songwriter Mark La Perle from Bedford.  The first 50 people will receive a free Virginia Grown shopping bag and free ice cream cups for the kids 12 and under to enjoy.
The Town of Halifax Farmers Market is a collection site for school supplies for National Night Out.  These school supplies will be given out to children in the Halifax community during the National Night Out event on August 5, 2014.  Free bottled water will be available to all who bring in school supply donations during the grand opening celebration on Saturday.
Also, just in time for peak farmers market season, the Virginia Department of Agriculture and Consumer Services announces the 2014 "Farm Fresh Pledge! Program".  Each time a person spends $10 at the local farmers market, they can ask to have their punch card punched.  If a customer spends $30 in one day, he or she will get three punches.  If they spend $140, they will get all 14 punches.  "The key to remember is for every $10 you spend you get a punch.  Once you fill up all 14 slots on your card, hand it over to the market manager, and your card will be entered into a drawing for a chance to win a Virginia Grown/Virginia's Finest prize pack valued at up to $200".
As the demand for Virginia products has increased, so has the number of farmers markets statewide.  Research by Virginia Cooperative Extension has shown that if each household in Virginia spent just $10 a week on locally grown agriculture products, consumers would invest an additional $1.65 billion back into the local economy each year.  The public is invited to visit the Town of Halifax Farmers Market, located at 209 South Main Street in Halifax to pick up a pledge card and begin pledging today!  The Farmers Market is open every Saturday from 8 a.m. to noon.