June 12 Make and Take Fairy Garden at the Halifax Farmers Market
By Irene Dunn
VCE Southside Master Gardener
The Southside Master Gardener Association will hold a Make and Take Fairy Garden on Saturday, June 12 at the Halifax Farmer's Market between 9 a.m. and noon. This event is free for youth and a great way to introduce kids to plants and gardening. All items needed to make the Fairy Garden will be provided.
Fairy Gardening has been around for hundreds of years. It first debuted in the US in 1893 at the Chicago World's Fair, where the Japanese Pavilion displayed bonsai dish gardens. It has become more popular in recent years. A miniature garden is where you can use your imagination to create a year-round tiny space to tend to and lure fairies where they feel at home and bring luck and happiness. This is a great, fun project for children to get involved in gardening, learn respect for growing things and making memories. Kids will love to plan, pick out plants, play in the dirt, construct tiny items and learn how to maintain their fairy garden.
The garden can be placed inside or outside in living spaces or the garden. It is a great advantage that you can build a fairy garden inside regardless of the weather. Any type of container with a drainage hole can be used. It can be inexpensive by collecting things such as pebbles, rocks, moss, twigs, bark, leaves, fabric, string, small toys, popsicle sticks or items made out of clay. These can be used to make fairy houses, paths, arbors, seats, swings, and ponds. There are many ideas and inspirations on-line and stores where you can also buy fairies, gnomes and accessories to make your garden magical.
While at the market, you will be able to enjoy fresh produce, organic meats and eggs, homemade breads and sweets and lots of arts and crafts. The Halifax Farmer's Market is located at 209 S Main St, Halifax. Please put the Make and Take Fairy Garden on your list of the most fun things for your children to do this summer.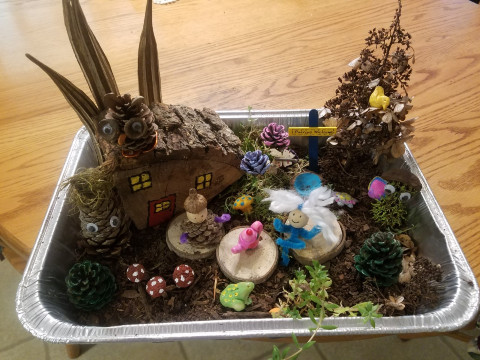 Caption for picture
This fairy garden is made of mostly natural pieces. Note the pine cone owl, the acorn top mushrooms and okra trees. Bring your kids to the Halifax Farmers Market on June 12 between 9 and noon for a make and take fairy garden.